Information of the company
Hankkija at your service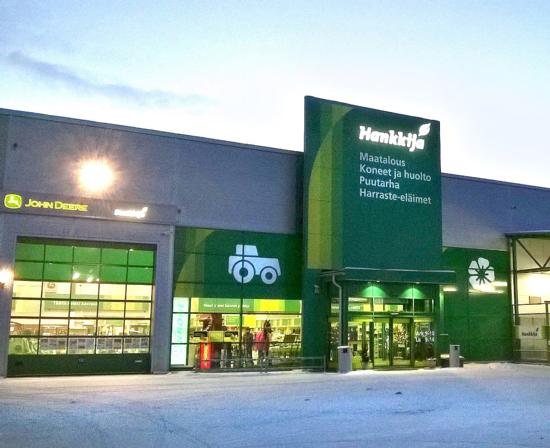 Hankkija is a nationwide store and service chain for agriculture-related products,machinery, hardware and gardening. Hankkija has 53 retailing stores and 8 Machinery Centres.

In 2022 Hankkija net sales totalled 958 MEUR and the company has 1000 employees in Finland.
Hankkija stores are specialised in agricultural supplies and machinery
Hankkija sales network consists of stores located at regional economic centres. The stores are full-service agricultural stores, offering fertilizers, lime, plant protection products and preservatives, feeds, seeds, farm implements and grain trade services. The larger Hankkija stores' product range also includes various farm and animal husbandry equipment as well as spare parts sales and contract maintenance services. Furthermore, the chain provides specialised farm construction services at 20 business locations in different parts of Finland. Several stores also display a wide selection of equestrian and pet supplies.

Machinery requiring special expertise, such as tractors, combines and special implements, are sold and serviced by eight Machinery Centres located in Hyvinkää, Turku, Tampere, Kouvola, Seinäjoki, Kuopio, Kokkola and Oulu. Their services include trade-in-machinery and contract maintenance.

The seed centres located in Hyvinkää and Alastaro are responsible for the Hankkija's own seed production.

» Contact us about agriculture
» Contact us about machinery trade
Gardening trade at Hankkija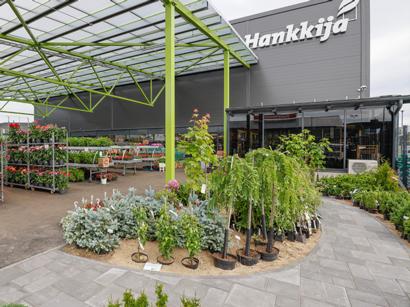 Hankkija gardening stores offer full service throughout Finland.

Gardening stores are seasonal, they open each spring in April at the latest and close in August. Their selection covers everything needed for setting up, caring for and maintaining gardens: seedlings, summer flowers, bulbs, seeds, gardening machinery and tools, soil, peat, fertilizers, plant protection products, grills, outdoor pots, water feature supplies, mini-greenhouses, as well as yard stones and slabs.

» Contact us about gardening trade and hardware
E-commerce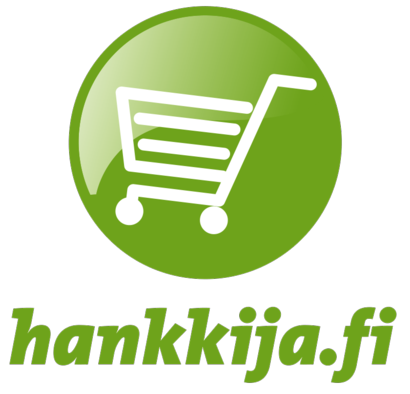 Hankkija.fi is the largest agribusiness e-commerce and website in Finland. The goods bought from Hankkija e-commerce are conveniently delivered directly to home address.

In addition to the online shop, other popular website sections are trade-in machinery, store finder, machinery-related articles and daily grain prices. Hankkija online service also includes a popular extranet section where farmers can check their personal data like invoices and grain analyses.

» Contact us about E-commerce
Hankkija Oy
Since January 2016 Hankkija Oy has been wholly owned subsidiary to the Danish Agro group. Hankkija managing director is Jyrki Lepistö.

» Contact us about company
Feed business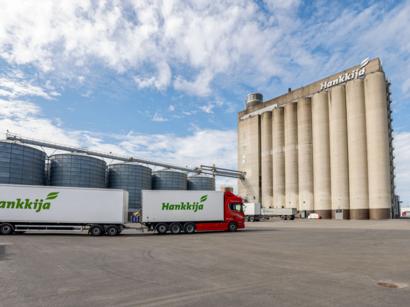 Hankkija Oy produces and trades compound feeds. Hankkija Oy is operating four compound feed mills in Finland, with a market share about 50 % of total feed markets.

Concerning the sourcing of feed rawmaterials, please look grain trading/feed rawmaterial team info below.

» Contact us about feed business
Seed centres
Hankkija has two seed centres located in Hyvinkää and Alastaro. Both facilities prepare and pack certified seed of all spring and winter cereals, pea, rapeseed, turnip rape and grass and feed plants.
Grain trading and feed raw material sourcing
Hankkija is the leading operator and first hand collector of grains at Finnish markets. We are sourcing cereals, peas, beans and oilseeds from our contract farmers. Hankkija Oy is the main Finnish exporter of high quality milling oats, feed grains, malting barley and quality wheat to EU and international markets.

Hankkija is importing feed raw materials to own compound feed operations and also trading to the farms. Raw materials are sourced from international markets from certified suppliers.

Feed raw materials are mainly bought by our group sourcing companies in Denmark. Danish Agro is sourcing bulk raw materials (eq. protein meals, expellers, fibers, oils, molasses etc.) and Vilomix Group is producing group's premixes and sourcing also special feed stuffs and feed additives (eq. amino acids, vitamines, enzymes etc.). You can find contact info's also to group sourcing companies from links below.

Hankkija's trading and delivery chain has full traceability, as well as quality-, in-house control- and food safety schemes. Quality and safety of products are secured in Hankkija's own grain and feed laboratories by continuous analysis program.

Hankkija Oy is a member of Grain and Feed Trad Association GAFTA, European Feed Industry FEFAC, VYR: The Finnish Cereal Committee and our trading operations are certified according EFISC-GTP (The European Feed and Food Ingredient Safety Certification Aisbl).


Our contacts at market place:
» Contact Hankkija trading and execution team
» Contact DLA Agro rawmaterial team in Galten, Denmark
» Contact Vilomix purchasing team in Lime, Denmark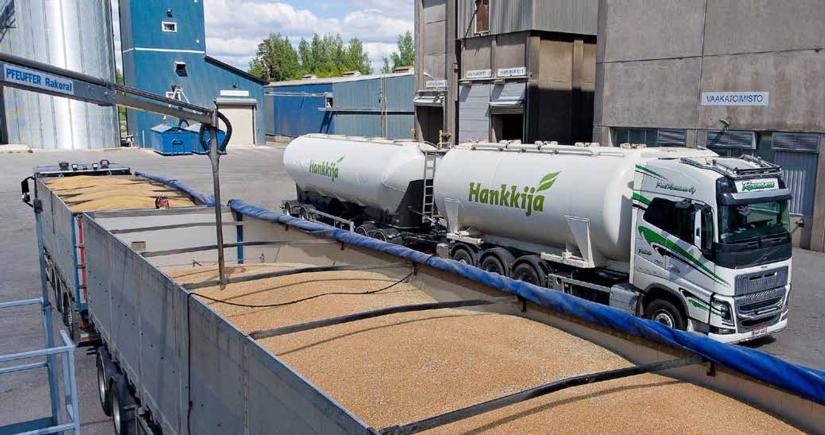 Organic trade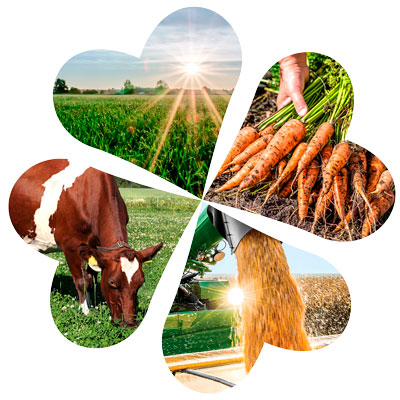 Hankkija Oy is a first hand trader of Finnish Organics
Connecting the whole country with over 50 stores, each providing the farms their own experts of different agricultural sectors – Hankkija has the leading position on the organic market in Finland. We know our farmers as we work with them on long-term basis, customer relations lasting a lifetime and even passing over to the next generation. The role has been reached by keeping an honest, stable and trustworthy position in Finnish agriculture throughout the history, dating back a hundred years.
Organic feeds according to your needs
With such history comes responsibility. Our focus is only on Finnish products which ensures our customers an easy traceability of our commodities giving a strong proof of origin. Hankkija has several collecting warehouses throughout the country to best serve the organic farmers in Finland. We are taking in the widest selection of varieties and we are constantly on the look for new possibilities. We are building the future for Organic Finland.
To ensure the quality and safety of our commodities, we analyze each batch before and after the intake in our own, qualified laboratory. We separate the goods according to the different qualities and ship them out to our customers by using our own logistics department. As a company we are controlled by the Finnish Food and Safety authorities (Ruokavirasto, FI-EKO-201) and certified also by EFISC-GTP (The European Feed and Food Ingredient Safety Certification Aisbl).
Organic feeds according to your needs
Hankkija is the main producer of organic feeds in Finland. For the production we have dedicated one factory to do the organics - The Kotka mill - directly on the sea shore. We are producing feeds for all needs, including cattle, poultry and swine production, and we have the possibility to customize everything according to the customers wish. In all sectors, we have a wide variety of experts working to fine tone the recipies to be exactly of the very best quality.
With an excellent location we can provide organic feeds all around the world to a farm or retailer, big or small. We have a strong focus on sustainability and environmentally safe production -This mentality is carried out from the very seed to the final product.